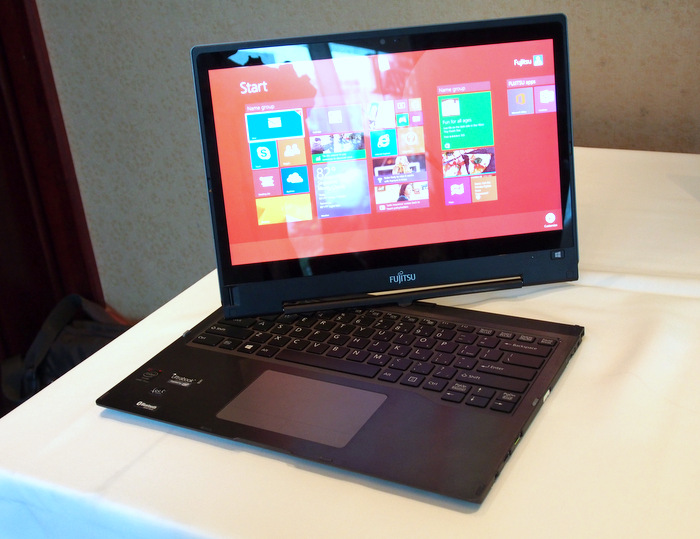 It has been stated that Windows 8 will or may not go down in the entire history being the most successful OS of all time. But now Microsoft's much maligned effort can at least be credited with helping to popularize 2-in-1 designs that combine laptop and tablet-style functionality. However, the main popularity of convertibles is still yet to be confined to the consumer space, and Fujitsu has already declared its comeback with its second enterprise-focused convertible, the Lifebook T904 Ultra book. The T904 stands out the contribution to a pivoting mechanism that allows the display to rotate for about 180 degrees and fold over behind the keyboard allowing to be used as a tablet therefore. Fujitsu's 2-in-1 Ultra book is a good communicator with a clever rotating hinge. The T904's 13.3-inch WQHD display has a pixel-resolution of 2560 x 1440, which is a suitable choice for its size. Text and menu labels are easily readable at Windows 8.1's default 100% magnification setting, meaning you would not have to mess around with scaling options to get applications to display properly.
The machine has succeeded the Lifebook T902, which is featuring a similar pivoting mechanism but it is being sported a modular bay design typical of the company's Lifebook line-up that allowed users to swap out modules – from batteries to optical drives or weight saving modules – on the fly. The T904 sheds the module bay, which has allowed Fujitsu to refine its design to make it slimmer than its predecessor, with a flatter, squarer construction and a larger click pad.
Lenovo's slightly more affordable ThinkPad Yoga acts as a suitable comparison point thanks to its display that can flip 360 degrees to double up as a tablet. That series tops out at £1,079 (around $1,723 or AUS$1,962) for the Core i5 model with a 500GB SSD. However, many other models in the series cost less but come with Intel's weaker Core i3 CPU. Dell's ageing XPS 12 provides similar convertible functionality, while other 2-in-1s – such as the Surface Pro 3 and Dell Latitude 13 7000 – have gone down the detachable keyboard route instead.
Design and specs:
The base line configuration features an Intel Core i5 Haswell CPU and 128GB SSD. Also it retails for £1,299, around $2,074 or AUS$2,367. That has now raised up to £1,699, around $2,655 or AUS$3,014 for the decked out top-end version with an Intel Core i7 CPU, 512GB SSD. From that off, the T904 is immediately recognizable as a fine member of Fujitsu's Lifebook family. Also it is decked in a brushed-metal silver finish; and a black matte strip completes the rear of the casing, which lends it a classy and understated two-tone appearance. About the measurements, the machine measures 17.1mm thick, which is a little hefty as compared to consumer-focused Ultra books but is still highly portable while measuring 2.2mm thinner than the Yoga. At 1.49Kg, the weight is fairly light for an Ultra book with a 2-in-1 design.